"I never had much to do with digitization. GYM X then showed me that digitization is super easy to use for my club. Without GYM X I would still manage my courses with pen and paper."
"I think the guys from GYM X started the next digital revolution in the fitness industry. The app can be easily and specifically integrated into everyday studio life and creates a new digital connection to my members."
"Your service is really unmatched. I can contact you on Sunday evening via GYM X's WhatsApp support and get an answer to my question within the same hour."
Start the most important step in digitizing your studio with GYM X.
GYM X – The ideal app for your gym.
Use a unique communication platform that enables active exchange between your studio and your members in the easiest and fastest way possible. Create a new interface for more direct member interaction for greater identification and satisfaction in your club. The content of the GYM X app can be individually adapted so that your members receive exactly the information about your studio that is important for them and for you.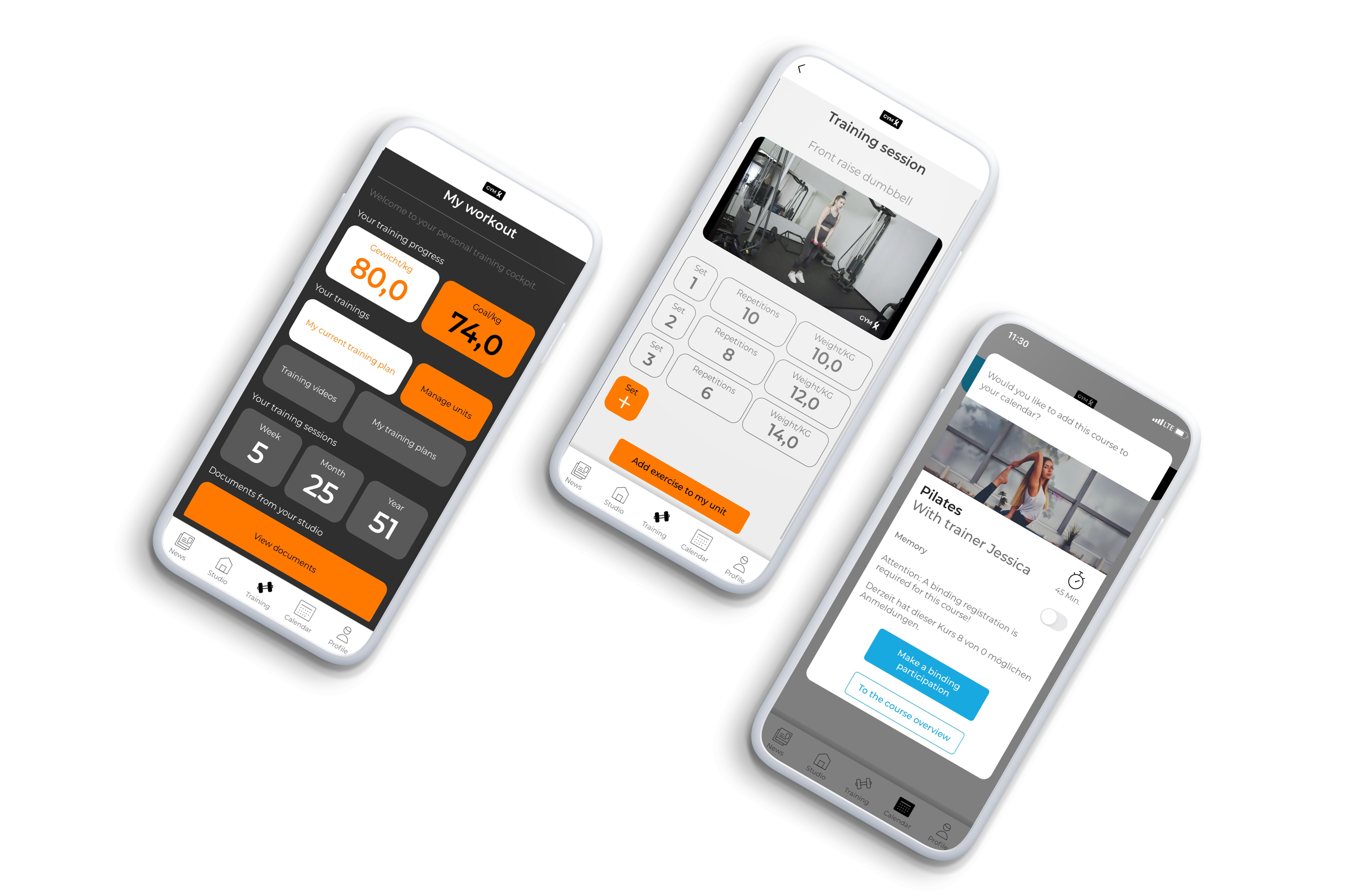 "GYM X is the ideal app for my gyms. Easy and compact to use, for me it represents the perfect interface between member and studio! "
Nicolas Helmig, owner of three EMS studios
Communication platform
Give your members the opportunity to access the most important studio information in your studio app from their smartphone as easily and directly as possible. Latest news, updates on new courses or special studio offers. ONE Connection for your gym.
Customer satisfaction
With your own studio app, offer your members the chance to take part in the digital studio experience up close. Create a new kind of connection between studio and member and give your members a new level of 5 * satisfaction.
Economic profit
A closer connection and higher studio identification enable a unique quality of service in the studio. A longer member loyalty and an optimized recommendation rate reduces the studio turnover and increases the studio turnover and profit. Your own studio app as your new profit maker in the club.
What is still holding you back?
With only 59.90 € you invest in the digitization of your studio with your own studio app. Let your members immerse themselves in the new digital world of your studio.
For GYM X, it is particularly important to make digitization affordable for the fitness industry. For this reason, the € 59.90 symbolizes an average monthly fee for German fitness studios. We want to give every fitness studio the opportunity, regardless of the size and number of members, to offer members the advantages of their own studio app and to make a contribution to the digitization of the industry.
Prices excl. value added tax